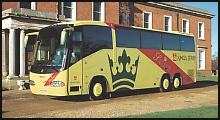 D. F. Travel Services is a destination management and ground handling company based in the UK providing services to the travel industry.
In particular, we specialise in co-ordinating ground handling for conferences and events. Meeting our clients on their arrival, transporting them to and from the appropriate venue, and ensuring their comfort and security.
D.F.Travel Services provided transport and ground handling for The Lambeth Conference in 1998 and 2008, as well as for various events for Thomas Cook. Other clients have included CIE, OCC, The National Association of Funeral Directors and various corporate clients.
D. F. Travel Services provides a comprehensive service using professional staff and luxury vehicles.